Custom and Stock Patches made to order

We do all embroidery in house and usually can ship your custom embroidered callsign items and patches out in 2 - 5 business days after you have paid for your order.

Shipping is a flat $5.00 to anywhere in the US for patches. This includes tracking.
Providing professional embroidery and digitizing services for every need.
Embroidered Memories
Winslow, AR

(479) 684-9627
Order any of the above Patches
Visit Our ETSY Store to purchase any
of our products!
Callsign and Name (your choice of thread color)
Size: 1 5/8" x 3 5/8" Rectangle with Black Border
Iron On, or Sew On
3 Patches with the same design Price: $29.95
Callsign and Name with CW Key
Size: 3" x 4" Oval with Black or Navy Border
Iron On, or Sew On
3 Patches with the same design
Price: $$39.95
Collins Emblem
Size: 2.5" x 4.5" Rectangle with Black Border
Iron On, or Sew On
Price: $9.95
Keep On Squatchin'
Size: 3.5" Round
Iron On, or Sew On
Price: $12.95
Flag w/ Stripe in AR State Outline
RETIRED can be be replaced with another word
Size: 4" Square with Navy Border
Iron On, or Sew On
Price: $14.95
Subdued Flag w/ Stripe in AR State Outline
RETIRED can be be replaced with another word
Size: 4" Squarewith Black Border
Iron On, or Sew On
Price: $14.95
DX in Triangle Emblem
Size: 3" x 4" Rectangle with Black or Navy Border
Iron On, or Sew On
Price: $9.95
2nd Amendment with Skull and Pistols
Size: 3.5" Round with Black Border
Iron On, or Sew On
Price: $12.95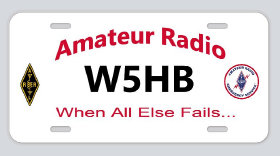 American Flag Patch
Size: 2" x 3.5" OR 1" x 1.5"
Iron On, or Sew On
Price: $3.95 either size