Amateur Radio Operator Items & Gifts
Four members of our family are licensed amateur operators and understand the need for quality callsign and ham event items
Callsign & Club Logo Shirts
We offer T-Shirts, Polo Shirts, and Denim Button Up Shirts with your callsign, name, and other amateur radio designs
Callsign & Radio Club Logo Hats
We offer all types of Callsign Hats. All types of styles and colors available. Great for hamfests and other amateur radio events
Callsign Hat and Shirt Combos
Many styles and colors to choose from. You can also have designs added to one or both sides of the hat, as well as, your name or call added to the back of the cap.
Many styles and colors to choose from. Name, call, and designs can be added to the left and right chest area, as well as, names or call on a sleeve.
We offer hat and shirt combinations too!
EmComm and Skywarn Hats
Emergency Management and Emergency Communications Hats
We offer many styles of hats, visors, and shirts for the amateur radio operator. Please click on the links below to go to the page of your choice to see options and prices.

Orders for the items can be placed directly from the web pages listed below or feel free to give us a call. We do all embroidery in house and ship your custom embroidered callsign hats out in 2 - 5 business days
Skywarn Logo Hats
Pique Polo Shirt (Various Colors)
Price includes Callsign and Name
Extra embroidery available at extra cost
Amateur Radio Patches

We now offer permanent printing on Cups, Mugs, Name Badges, License Plates, Mouse Pads, and many more items

See the Club Logos we have available to embroider on shirts further down this page!
Club Logos We Currently Have In Our Design Library:
The ARC logos shown below have been digitized and are ready to be embroidered on any of the shirts we offer

Central Kansas ARC Logo
Bella Vista, AR Radio Club
The Backyard Repeater Group
SCARS ARC
Russellville, AR ARC
Shreveport, LA ARC
Raytown ARC, Kansas City
Oklahoma City OCAPA
Amateur Radio Coffee Mugs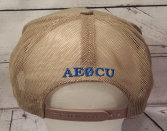 Amateur Radio Operator Name Badges


Amateur Radio License Plates
Providing professional embroidery and printing services for every need
Embroidered Memories